Email Marketing Tools
For Growing Your Email List
First things first; before you can market your products & services to anyone you need to have people to market to.
Building an email subscriber list is one of the best marketing moves you can make for your business, and right now is the perfect time to start doing that.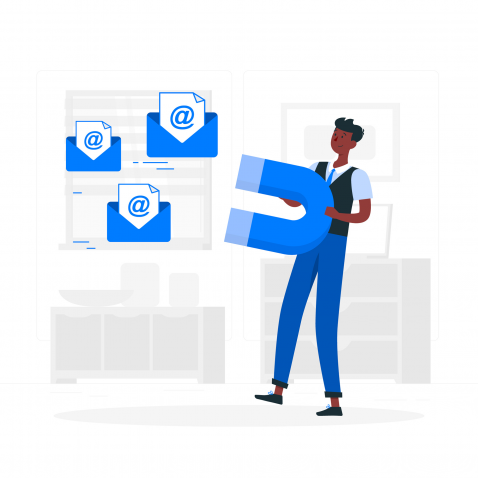 If you want my advice, start building your email list immediately. The more you can automate the building of your email list the better, so you're going to need some help.
New website? Start building a list.
Old website with significant traffic? Start building a list.
Email marketing is important, and you need to start collecting email subscribers as soon as you are able. Marketing directly to people's inboxes is highly targeted and boasts an insane ROI.
The more you can automate the building of your email list the better, so you're going to need some help – below are some email marketing tools that will do just that.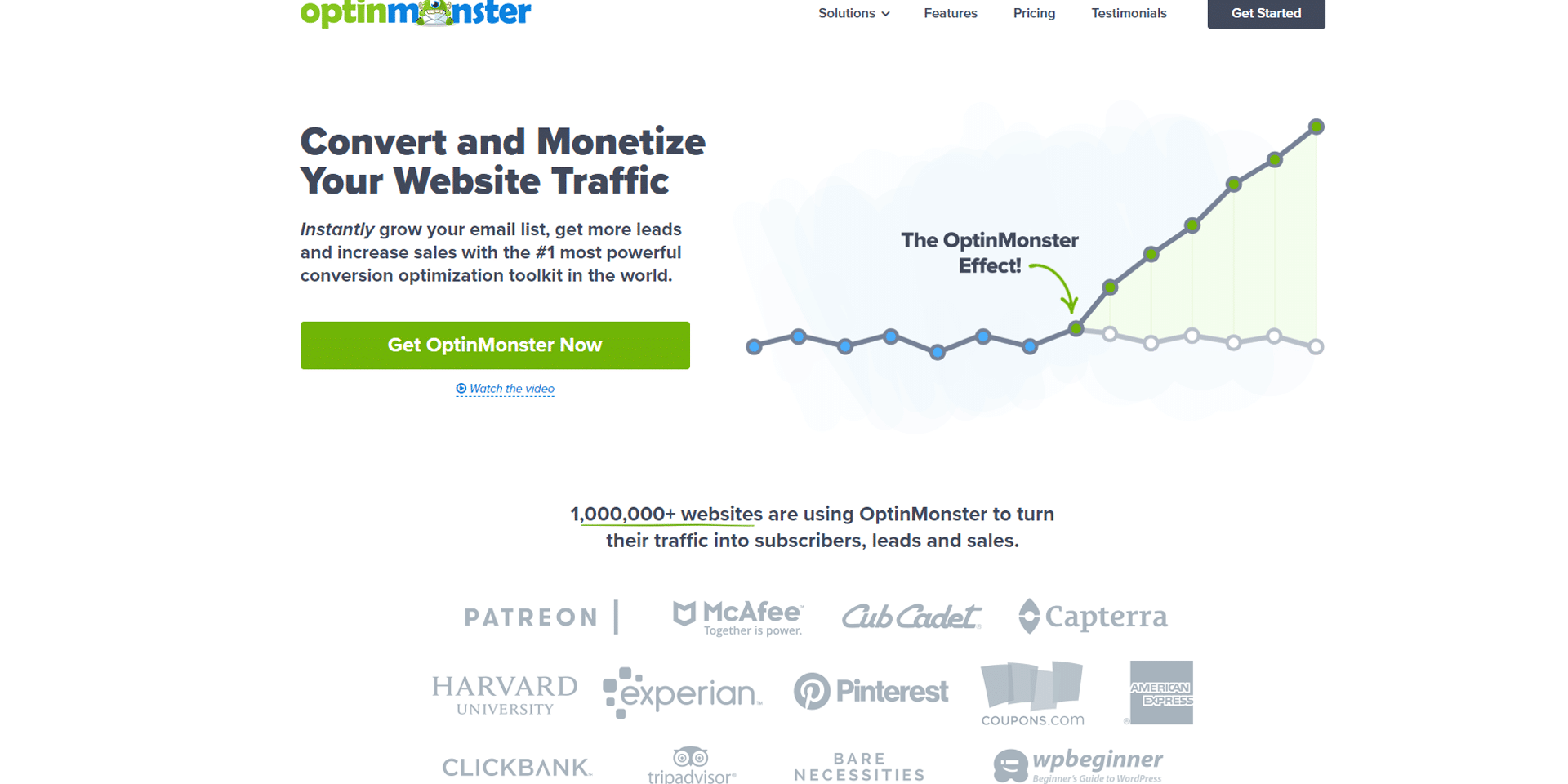 OptinMonster
Pricing: Starting from $19 monthly recurring
OptinMonster is a fantastic tool to use as your launchpad for email marketing success. Allowing users to create forms for your websites and landing pages that are designed with conversion in mind.
Not only that, but OptinMonster lets the users determine if their list will be automatically segmented using behavior personalization – making it a breeze to automate several email campaigns at once.
There are a number of case studies showcasing the effectiveness of this tool, and it is definitely one that I urge you to check out whether you are looking to launch your first campaign, or want to improve the number of leads you are generating.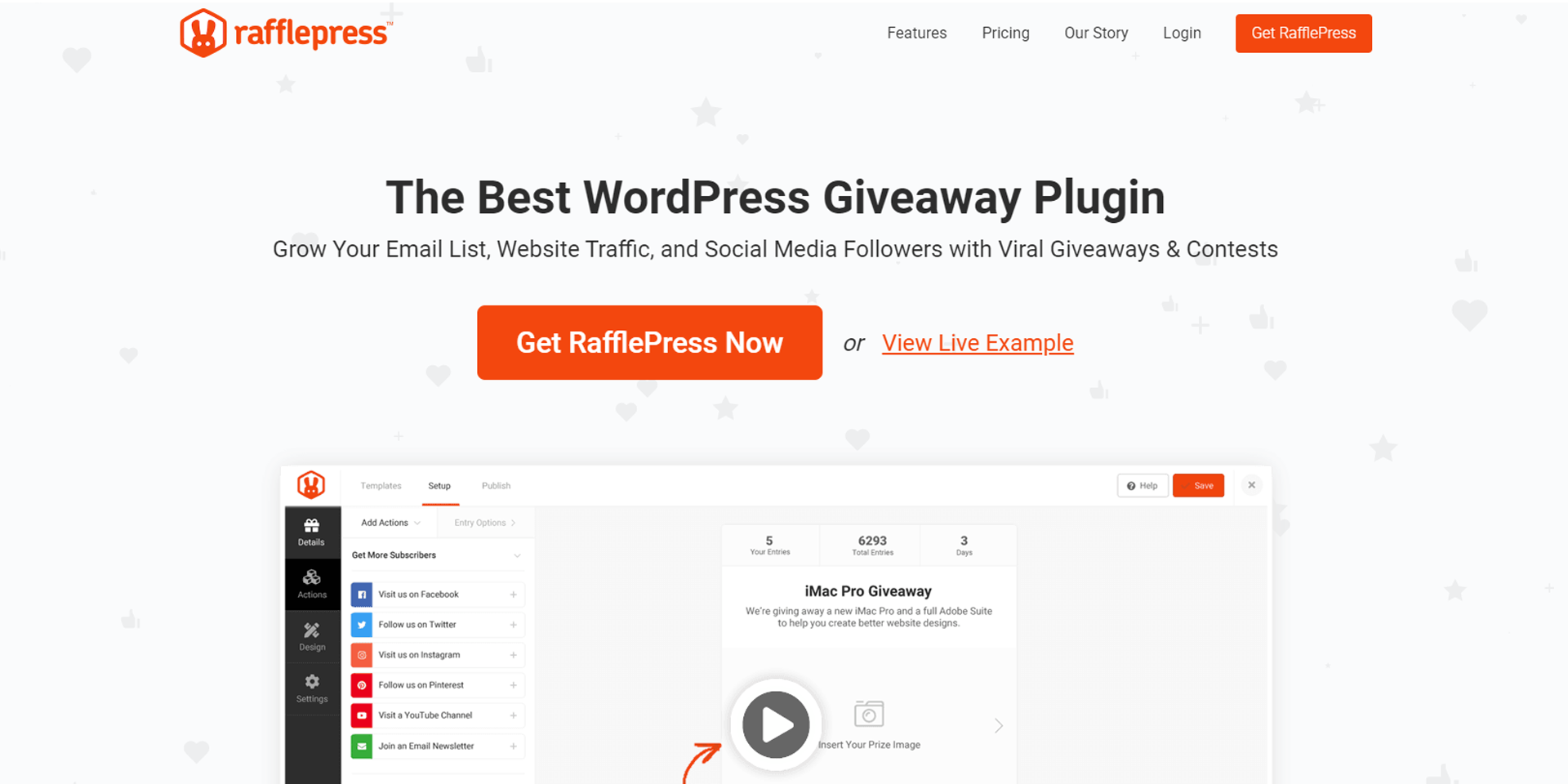 RafflePress
Pricing: $49 monthly, or, available with a lifetime license for $449
Alongside opt-in campaigns, where you offer something of value (eBook, video course, special offers) to the user in exchange for their information, giveaways and contests are the next best way to secure email addresses.
RafflePress is a WordPress plugin that will automate any competitions you are running across your blog and social platforms. Using prebuilt templates that are mobile responsive and built to convert, you can leverage viral sharing & have your audience promote your business across all major social platforms.
In addition, RafflePress tracks the entire process for you and provides opportunity for highly relevant retargeting where necessary.
Email Marketing Tools
For Campaign Monitoring
So, you've started to build an impressive email subscriber list; now is the time to start thinking about your first campaign.
Yet, before you go sending out emails at random en-masse you should consider using an email campaign monitoring tool, doing so will provide you with many benefits such as tracking, testing, and campaign management.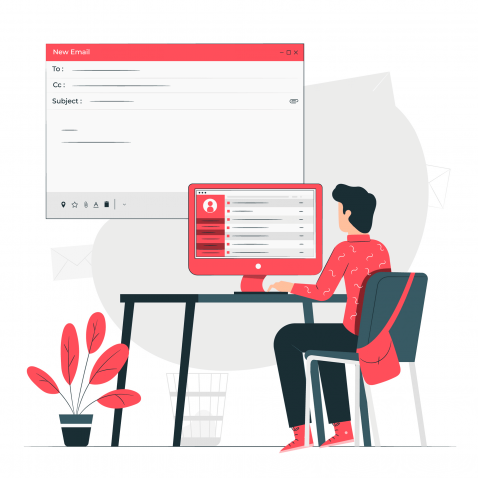 By monitoring your campaigns, you can not only manage them with far more efficiency, but you can gain useful insights to act on, and actually improve conversions.
Most email campaign monitoring tools go much further than providing you with open rates and links clicked – they can automatically segment your audience based on predetermined factors you have chosen. Segment by gender, interests, age ranges, location, whether they have purchased from you before, etc.
Segmenting your audience allows you to set up autoresponder sequences designed to target specific demographics and boost conversion rates. Imagine you run an online musical instrument store, you can target piano players with your latest piano offers, and guitar players on your list will only receive emails based on their interest in guitar.
This is extremely powerful, and when used correctly results in returns that are simply not offered by other marketing strategies.
Typically, campaign monitoring tools are a one-stop-shop for all your email marketing needs, providing you with templates that are almost always customizable – most even provide training on email marketing campaigns and strategy.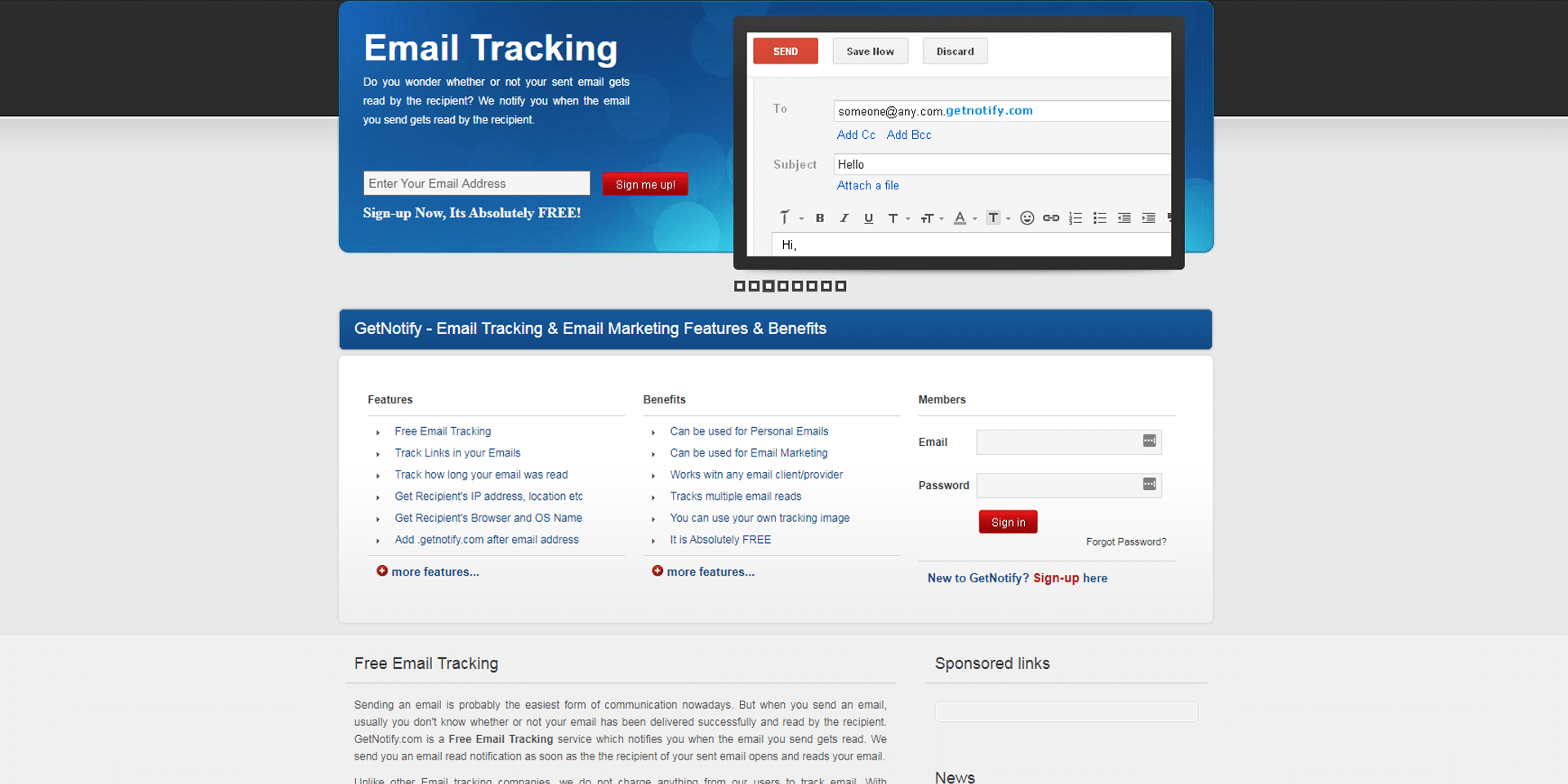 GetNotify
Pricing: Free
If you are taking your first steps into email marketing and all the constraints that might come with that, such as a small or non-existent budget. GetNotify might be the solution you are looking for.
GetNotify inform the user when an email they have sent has been read, re-read, geo-location of the reader, time spent reading, and other details. For newer marketers the value of this might not become readily apparent.
But using this data you can start to split email subject lines & copy to improve open rates. While this might take a bit more work using GetNotify than a paid platform, it provides a good starting block for beginner marketers.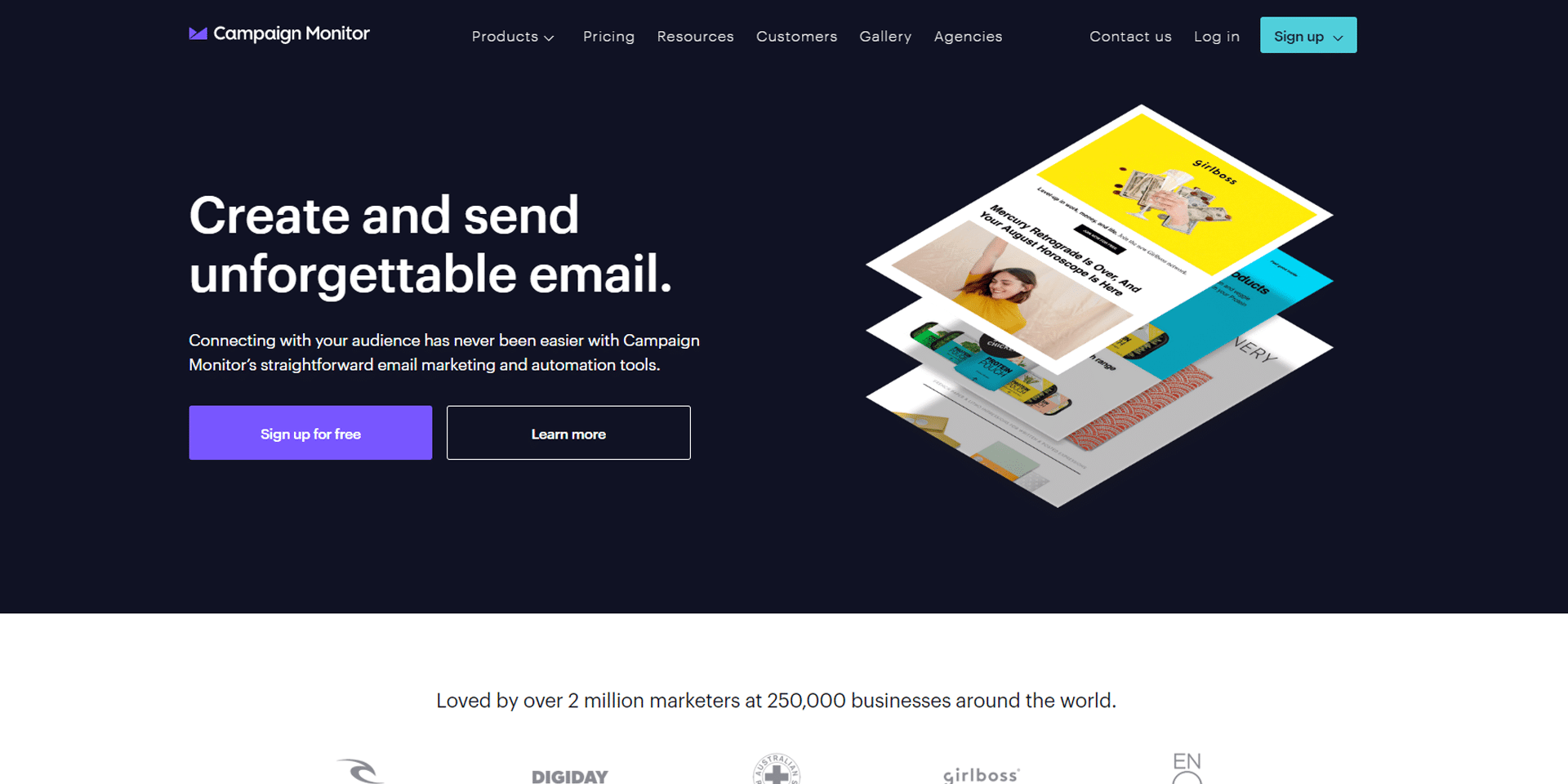 Campaign Monitor
Pricing: Starting from $9 monthly recurring
Campaign Monitor has one of the nicest user interfaces we have experienced in an email marketing tool, an obvious amount of time has been spent on design and UX for customers and it shows.
One of the biggest strengths of this tool is the template builder; allowing you to choose from pre-designed templates or build your own through an intuitive drag and drop system, no coding or design knowledge required.
On top of that, templates are highly responsive, and the tool will even allow you to view your emails through generated screen views of popular email clients such as Gmail, Yahoo, and Hotmail to ensure everything is working as intended.
Campaign Monitor also uses a powerful customer journey automation system, meaning you can set up several autoresponders to generate automatic responses based on user actions.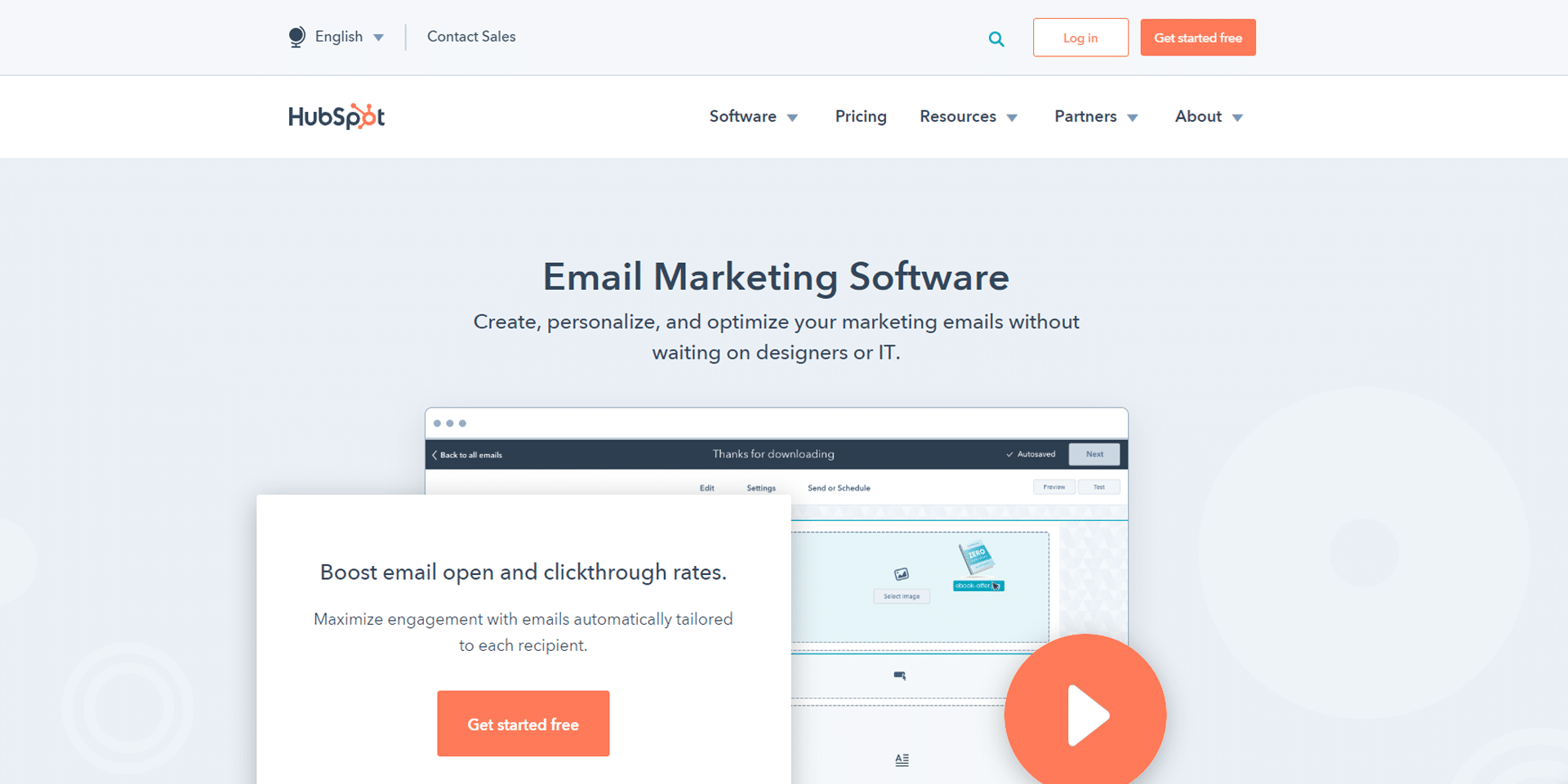 HubSpot Email Marketing
Pricing: Free
HubSpot is a great option for small growing businesses looking to delve into email marketing. Allowing up to 2000 emails for free each month, HubSpot has provided a feature-rich product that has the capacity to grow as you do.
Creating highly engaging emails that convert using HubSpot's block-based drag and drop email template builder. You will also be granted access to HubSpot's CRM service which provides a simple solution to email list segmentation.
By leveraging user behavior, you can set up tailored email chains, offers, and more – all fully automated. Not only that, but you can continue to build and improve on your success with easy A/B testing options, allowing you to optimize future campaigns for maximum conversions.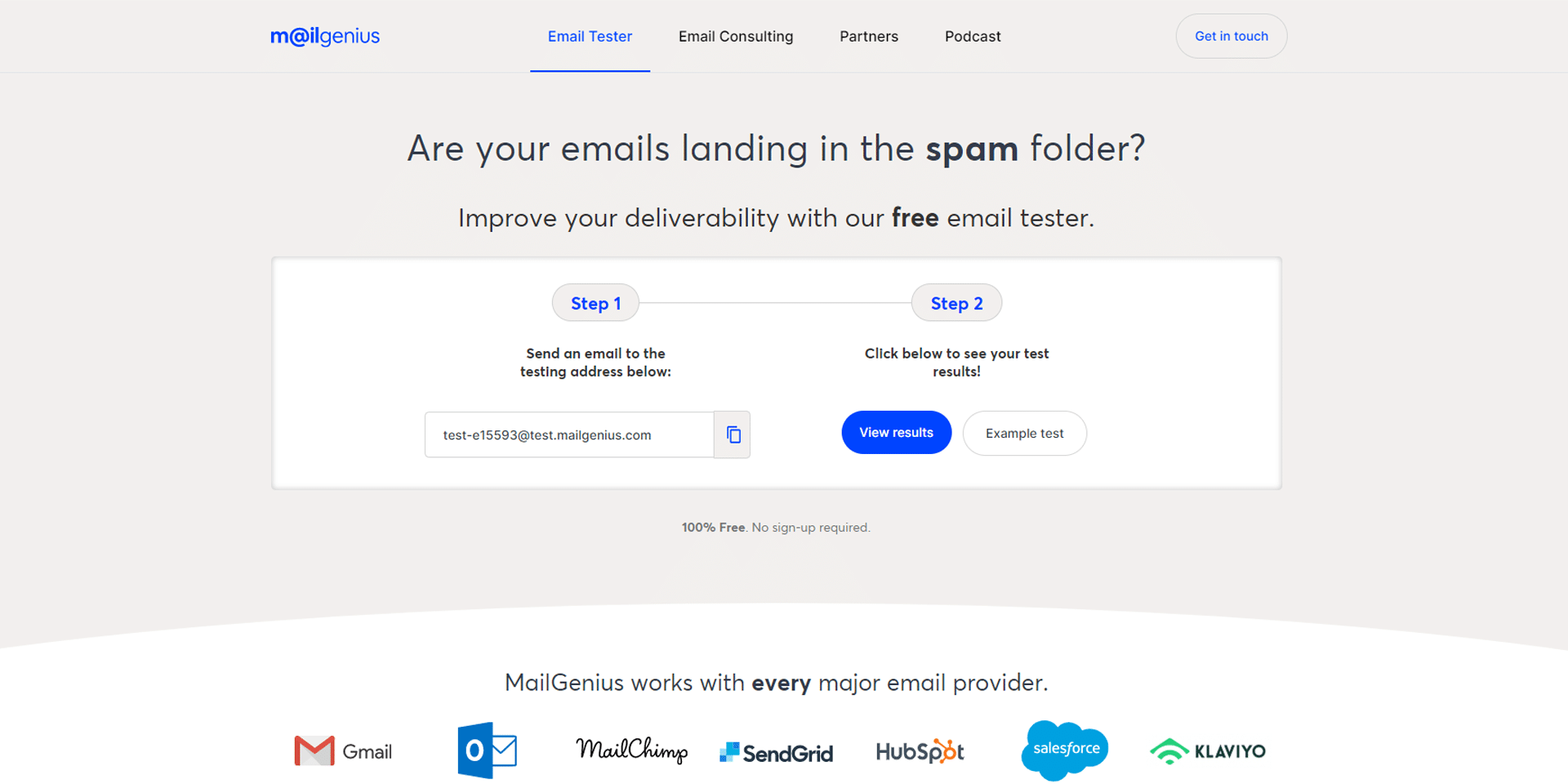 MailGenius
Pricing: Free
Another free tool to add to the list, MailGenius will scan your emails for any possible actions that may result in you ending up in your target's spam folder. By maximizing the chances of appearing in your recipient's inbox, you improve open rate, CTR, and conversions.
MailGenius provides a detailed rundown of pain points found within your email's content, and actionable insight & advice on how to rectify the problem. Ironing out deliverability issues are a huge factor for successful email campaigning, and it is always best to be proactive than reactive in these situations.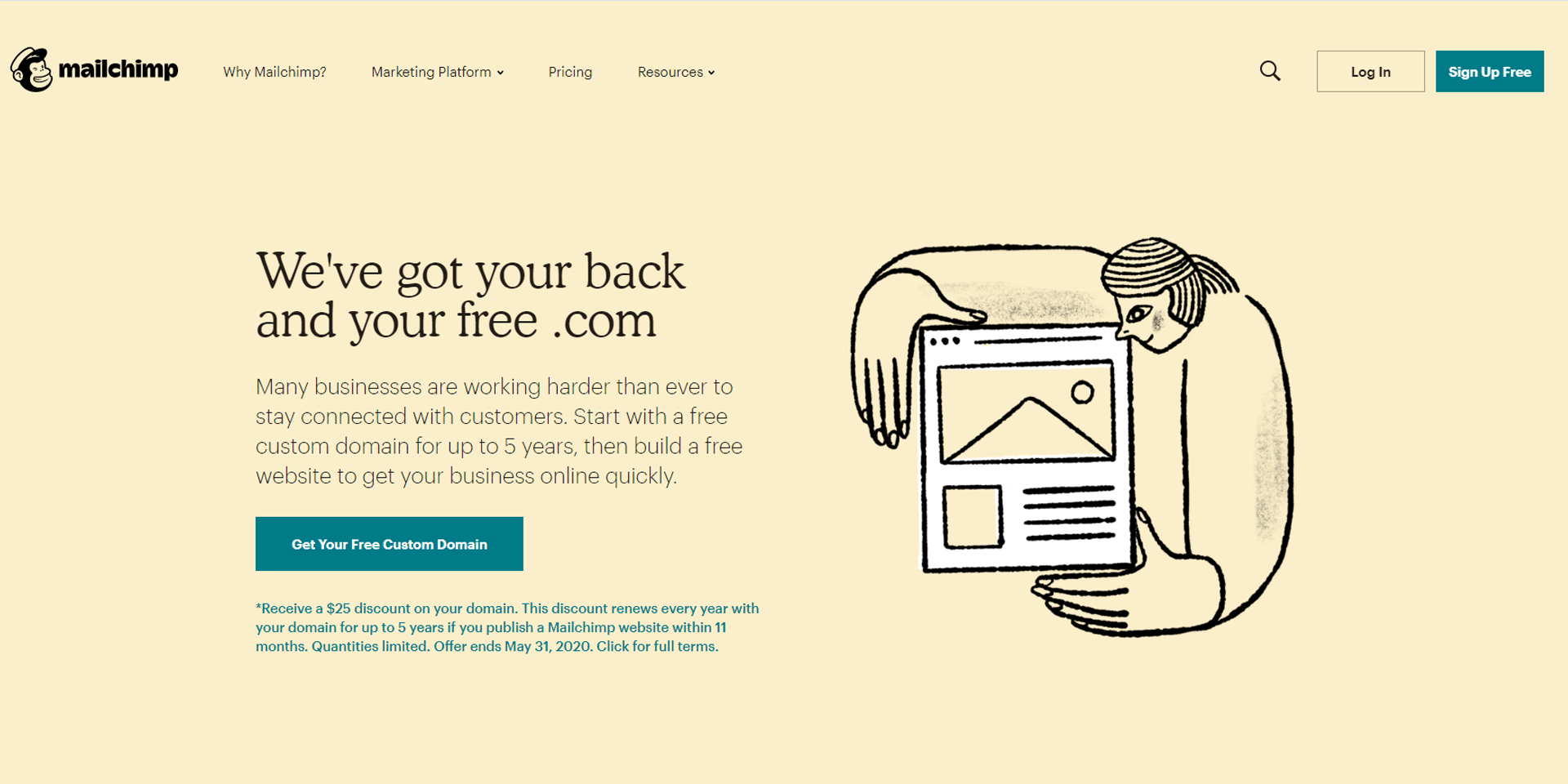 Mail Chimp
Pricing: From free, paid plans starting at $10 monthly recurring
Mail Chimp is one of the world's most popular email marketing tools, and it's easy to see why. Hosted within a slick-looking dashboard interface is all the email marketing power you could ever need.
Once you have imported your list, you can get to work on crafting your marketing campaigns. And with extremely powerful list segmentation options at your fingertips, you can create highly targeted, customized, engaging & converting content in minutes.
Also, Mail Chimp offers some of the best email tracking on the market, providing all the usual details – open rate, CTR, read time, etc. However, unlike many email marketing tools, Mail Chimp can integrate with Salesforce or Google Analytics, letting you set up auto-responders based on user behavior – automating the marketing process for you.
However, while Mail Chimp is free for up to 2000 subscribers or 12,000 emails per month, most of the advanced features are behind a paywall. But the squeeze is definitely worth the juice in this case.
By using tracking data to create highly targeted, user-relevant email campaigns – you can increase your ROI by up to 4200%, that's $42 for every $1 spent on email marketing.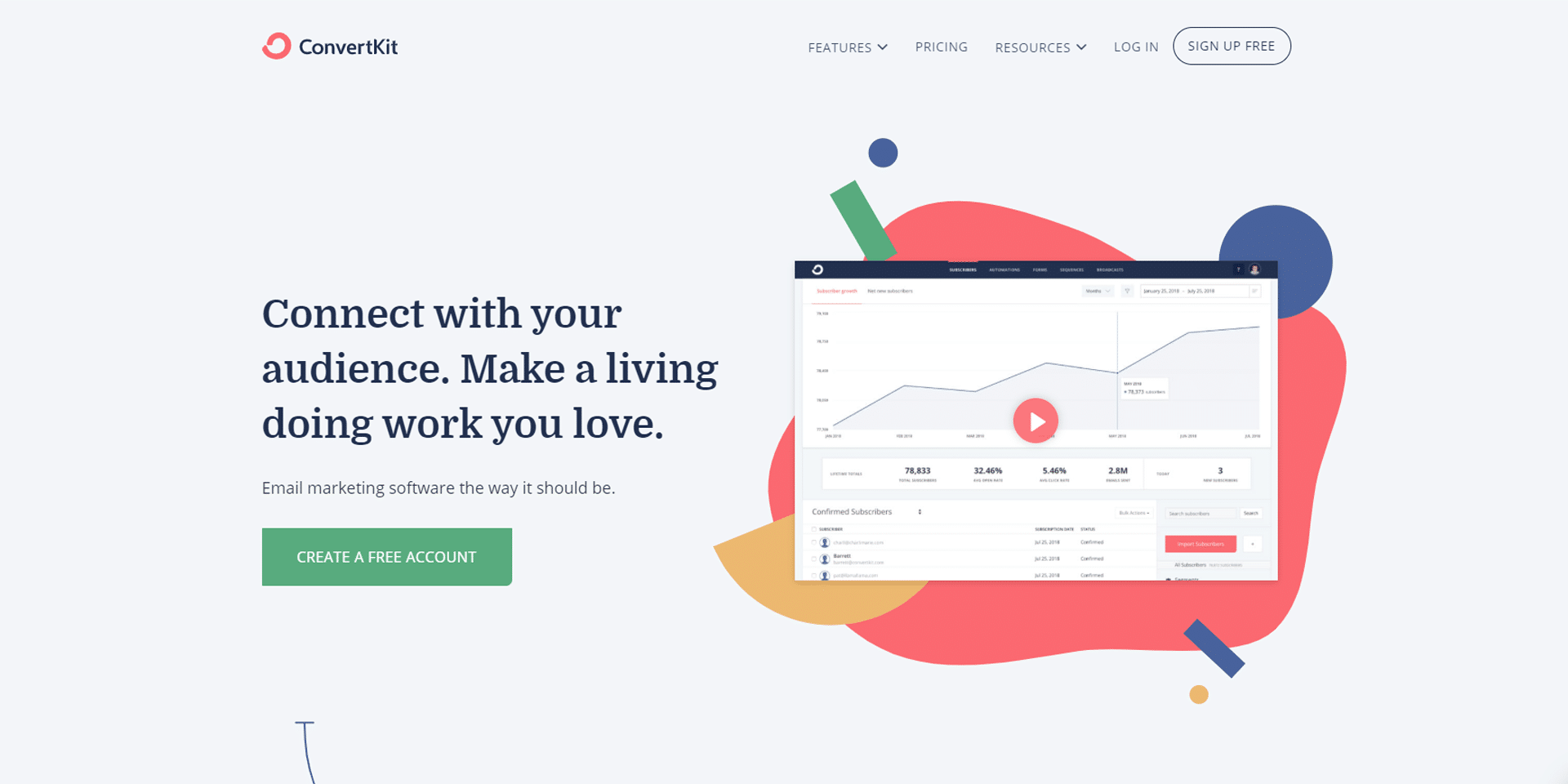 ConvertKit
Pricing: Starting from free
ConvertKit has found a home amongst creators selling digital products, primarily online courses, and bloggers looking to build their personal brand awareness. Being a relatively modest email marketing tool, ConvertKit doesn't have many of the more advanced features found in other email marketing software.
Email templates are not used by ConvertKit, instead, users are encouraged to send text emails – leaving the email body comparatively plain compared to what their competitors offer. With that said, for bloggers trying to increase their reach and for creators marketing their first digital products, ConvertKit does everything you need it to do, at a relatively inexpensive price point.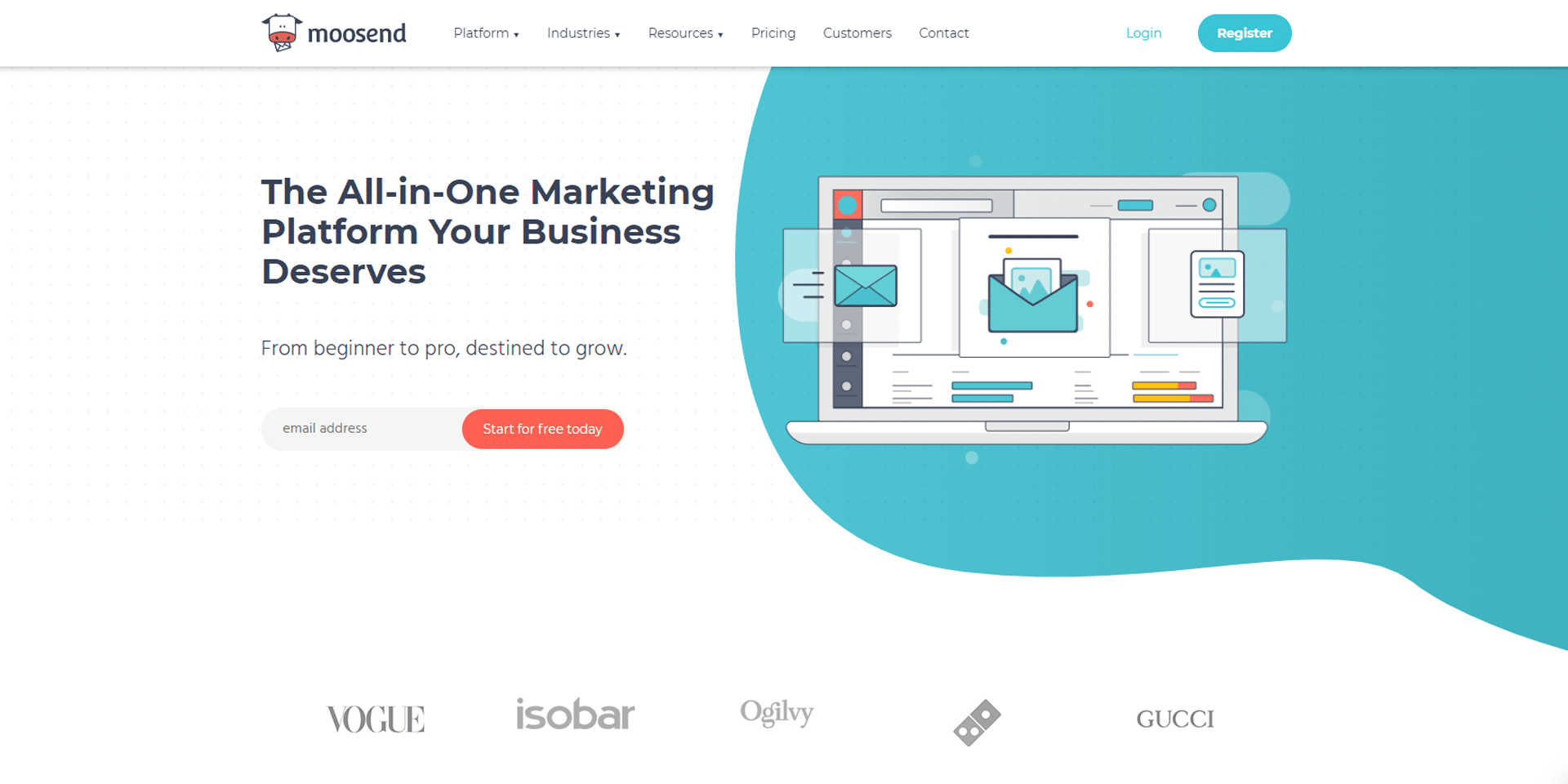 Moosend
Pricing: From free
Starting out with a free plan, with paid subscriptions starting at $10 a month Moosend is a great starting point for small agencies and non-profit organizations – with non-profits receiving a 25% discount on any monthly subscription.
While Moosend may lack some of the more advanced features of its competitors, you do gain access to nearly all features from their lowest price point – and if you just want to send out weekly newsletters to your users you needn't look elsewhere.
Using a simple user interface that includes email template designs, and a visual campaign builder, combined with advanced features such as cross-selling recommendations powered by AI, and even weather-based email triggers. Moosend has everything the beginner needs at a budget price point.
UX and UI have obviously been thought about carefully during the design process, as the simple to use interface requires little training for either your team or clients to get to grips with. Which is another thing, Moosend allows the user to white label the software – helping agencies profit by licensing the tool to their client base.
Analytics & reporting, however, is limited when compared to other email marketing tools available only collecting basic data such as email opens and unsubscribes. Yet, with that said, most other tools cost significantly more to unlock the same level of features as Moosend has with its basic plan.
Email Marketing Tools
For Testing
You've started sending out your first campaigns and, while you're having some success, you expected your conversions to be much higher.
Now is the time to begin testing your campaign strategies, successful email marketing relies on testing, optimizing, and retesting cycles to boost metrics across the board.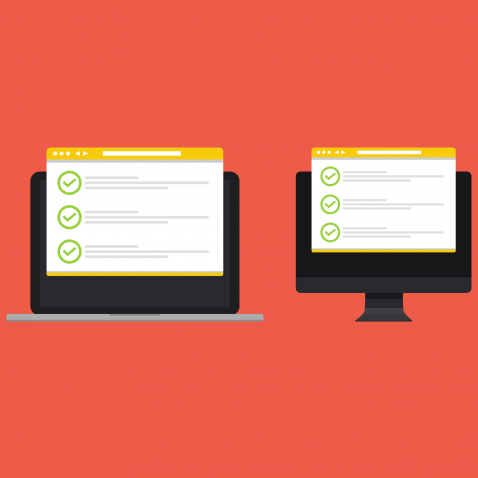 Testing is one of the most crucial elements of any marketing campaign, and email marketing is no different. By testing different layouts, subject lines, email copy, images, etc. You can start to optimize to convert for the highest ROI.
Some of the more advanced tools will even automate your autoresponder sequences for you, based on the optimization metrics you provide.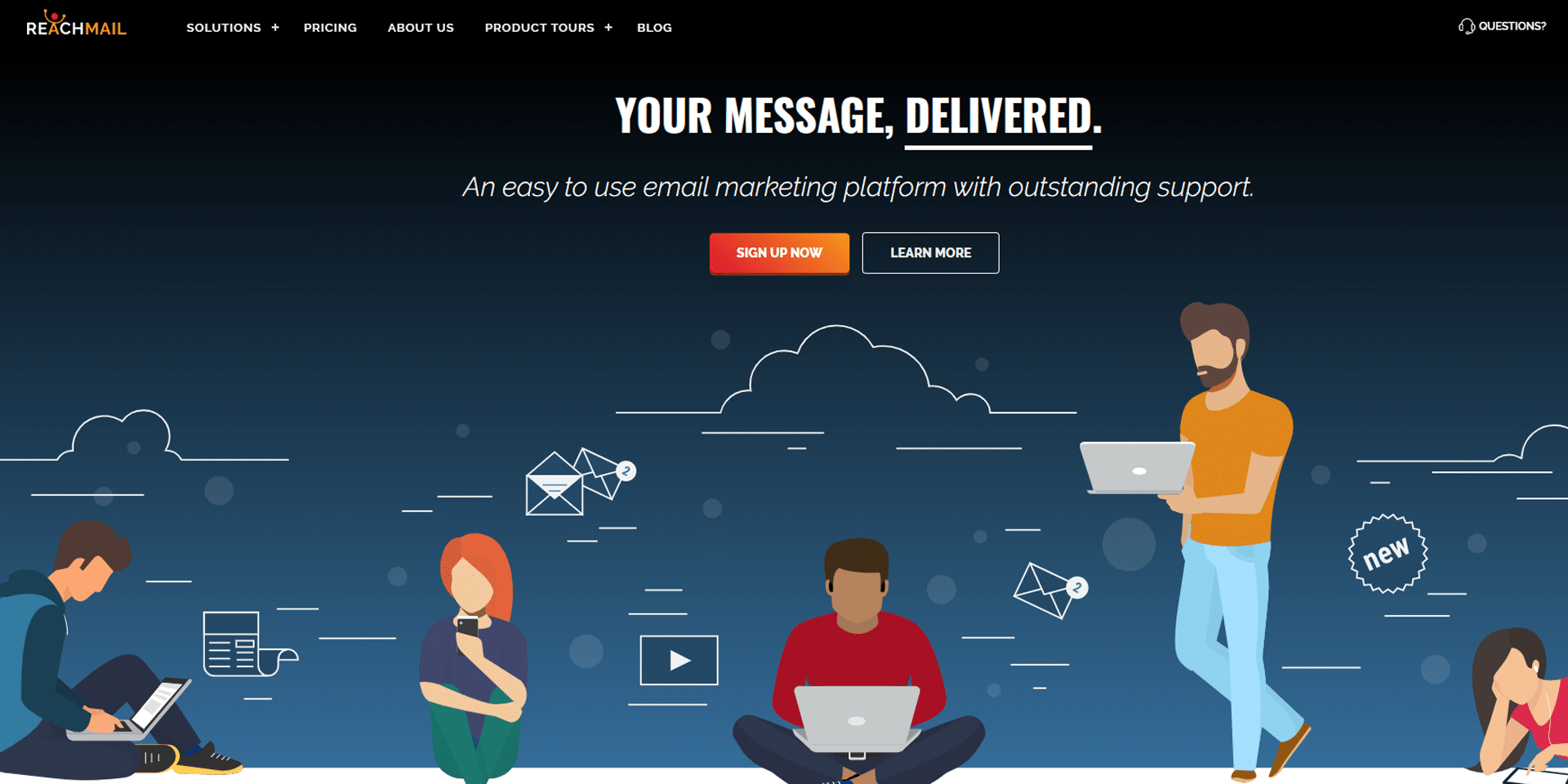 Reach Mail
Pricing: Starting from $10 monthly recurring
Reach Mail has built-in message testing capabilities, allowing you to directly test an analyze the key metrics between up to five separate campaigns at once. Taking into account email copy, subject lines, and additional content found within your emails Reach Mail provides the data you need to optimize efficiency.
When making use of test campaigns, you can set the percentage of your audience you want your test email to reach, and once the test campaign has run its course the tool will provide you with a report that highlights open rate & CTR for each iteration of your test email.
Reach Mail also provides users with an impressive library of email templates, with hundreds available – or you have the option to let one of their designers build you a fully customized email template that remains on brand.
Advanced tracking is also available, providing metrics on link clicks if the mail was forwarded, and how many unsubscribes you had as a result of the email. Automated follow-up campaigns can also be launched based on user behavior, such as links clicked.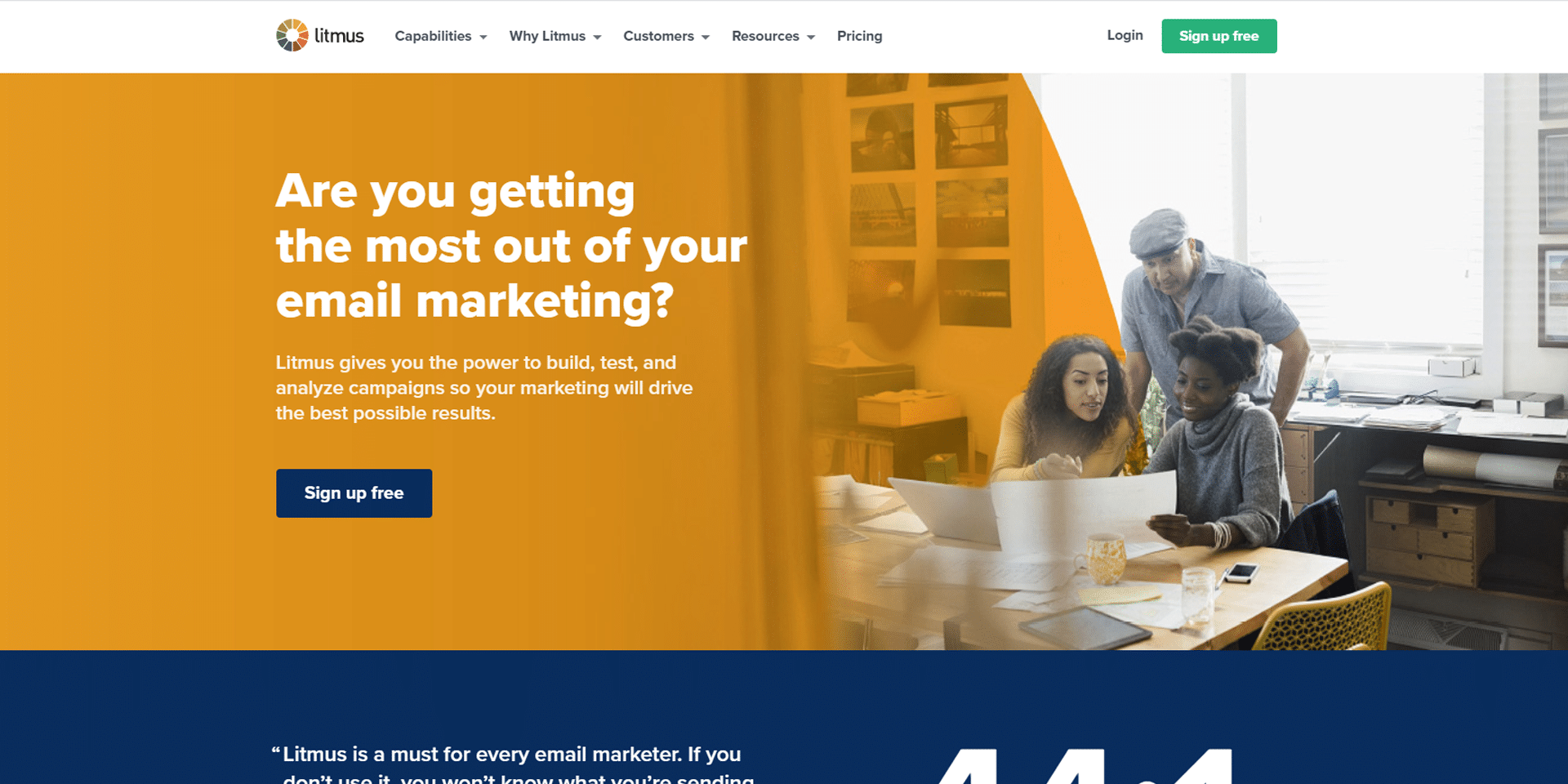 Litmus
Pricing: Starting from $79 monthly recurring
Litmus allows the user to render test & track their email campaigns with great accuracy. Render testing is available for over 40 different clients and devices, allowing you to make sure your email campaigns are built to driver conversions no matter how they are seen.
The whole process is simple, and unlike some other email marketing tools, lets you render test all devices at once with a single click – saving time going through each render individually. Also, you can have the ESP insert a tracking pixel with the email, providing metrics on geolocation, read time, open rate, CTR, whether the email was printed, how many times it was forwarded, etc.
Email Marketing Tools
For Automation
Sending out regular email marketing campaigns, testing them for optimization, and keeping on top of customer responses is a time-intensive endeavor.
The next step in email marketing domination is to automate as many of the procedures as possible.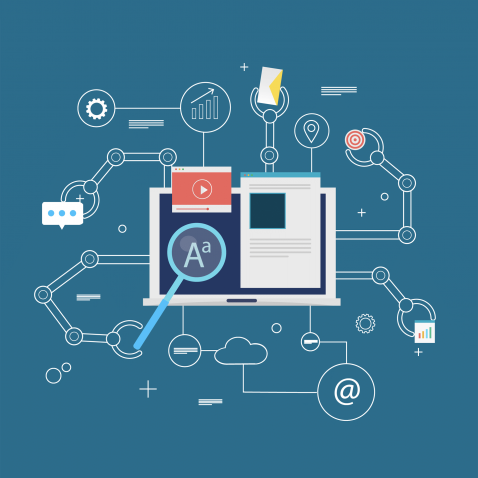 The more you can automate your systems and processes, the more likely it is that you will be able to scale your operation as necessary. Once you can operate at scale, the sky is the limit – once automation is in place the effort required to market to an audience of 100 is barely much different than an audience of 100,000.
Automating how you gain subscribers, welcome response chains, and autoresponders sequences based on user behavior will lead to an exponential growth of your efforts.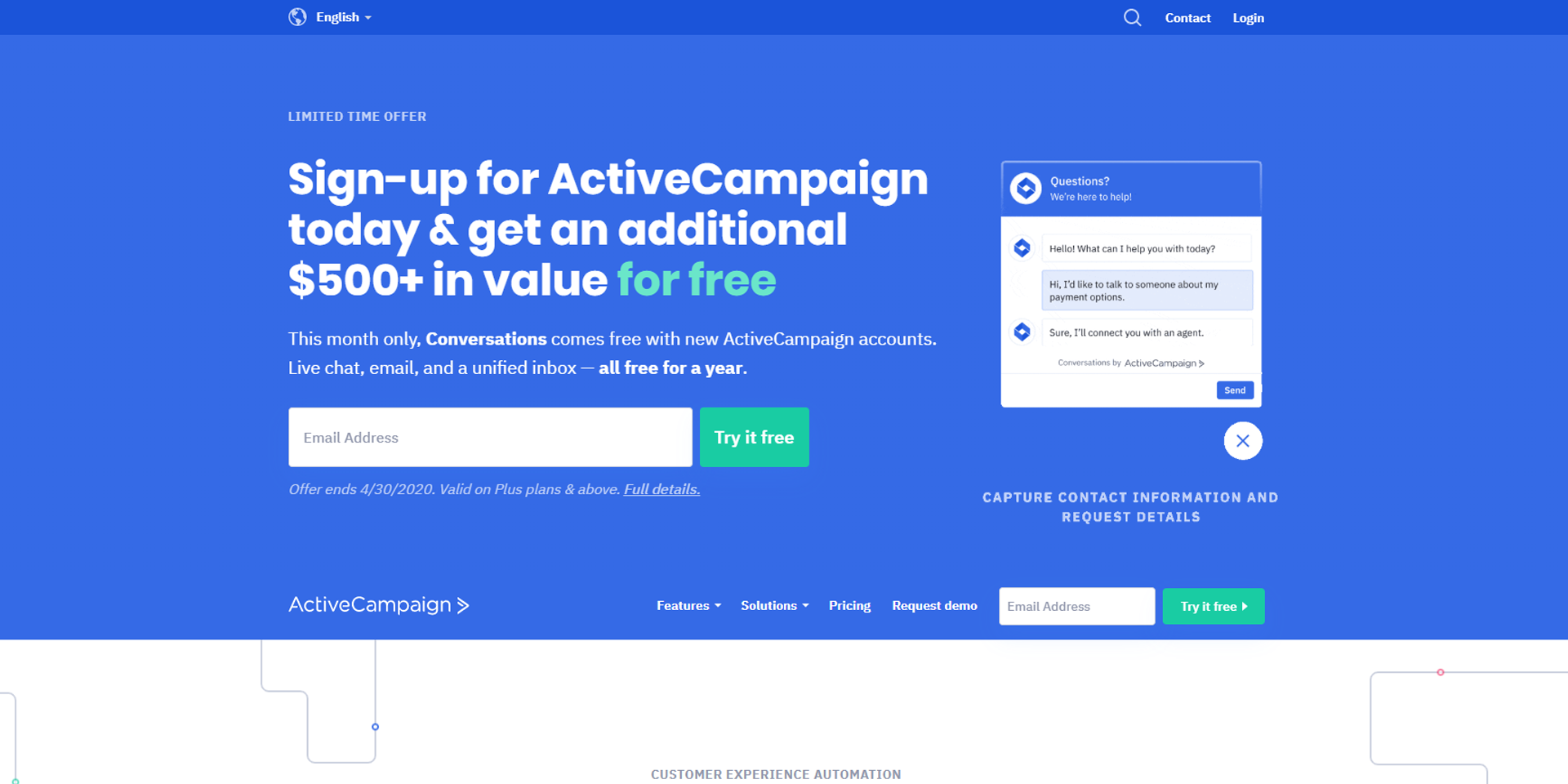 ActiveCampaign
Pricing: Starting at $9 monthly
With over 90,000 customers, ActiveCampaign is one of the most popular email marketing tools available – this is thanks to its reasonable price point, and easy to use intuitive interface.
A forerunner of using visual automation builders to create exceptional automated email marketing campaigns, ActiveCampaign allows anyone to craft professional-level email marketing campaigns with ease.
Belaying its relatively inexpensive price point, ActiveCampaign comes with advanced marketing features such as predictive sending to boost engagement, the ability to trigger messages across your websites and automate SMS messaging for you.
For the price, ActiveCampaign boasts one of the most impressive toolkits on the market.
One of the most important features to take note of, however, is ActiveCampaign's powerful A/B split test feature. Not only can you run vanilla A/B testing for your marketing campaigns, ActiveCampaign allows the user to A/B test within automation sequences – letting the tool optimize your campaigns for you.
Having a built-in CRM capability makes this one of the most powerful marketing tools on the market. When combined with its powerful autoresponder and email automation system, you can virtually eliminate a lot of your sales expenses.
By using some clever automation tactics, it's entirely possible to automate a large majority of your email correspondence.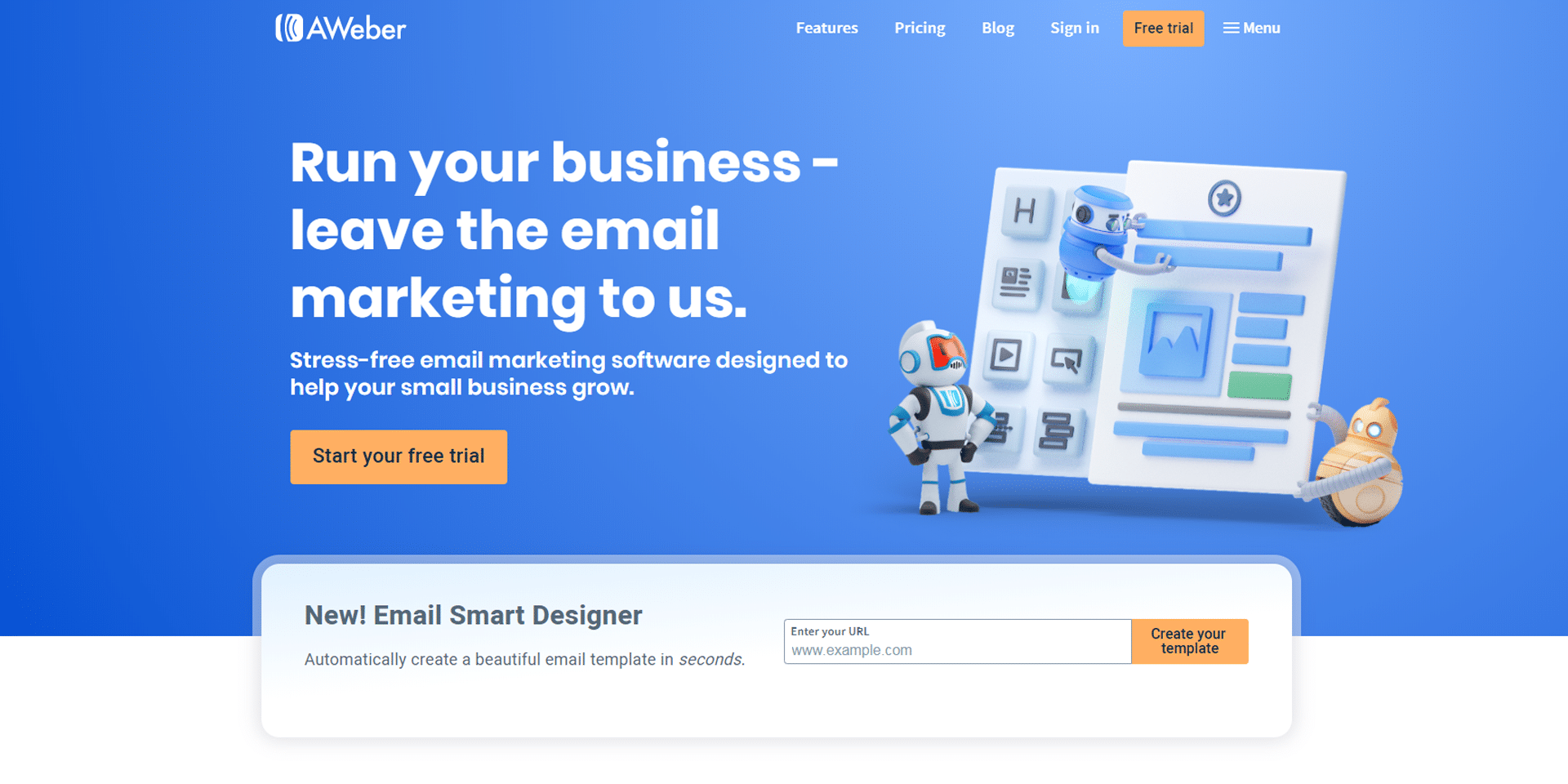 Aweber
Pricing: Starting from $19 monthly recurring
Providing over 150 templates designed to make you stand out and boost conversions, Aweber features a powerful autoresponder tool that can be used to engage your audience with a 'set it and forget it' workflow.
Aweber provides the user with many opportunities to integrate with various online services, such as Salesforce, allowing you to track data on your customers for use in retargeting campaigns.
Integration is also available with most common shopping cart tools, allowing you to collect customer emails as they make purchases. Aweber is perfect for anyone technically inclined; users can leverage Aweber Labs to hook into the Aweber API and create their own apps as necessary – boosting work efficiency where required.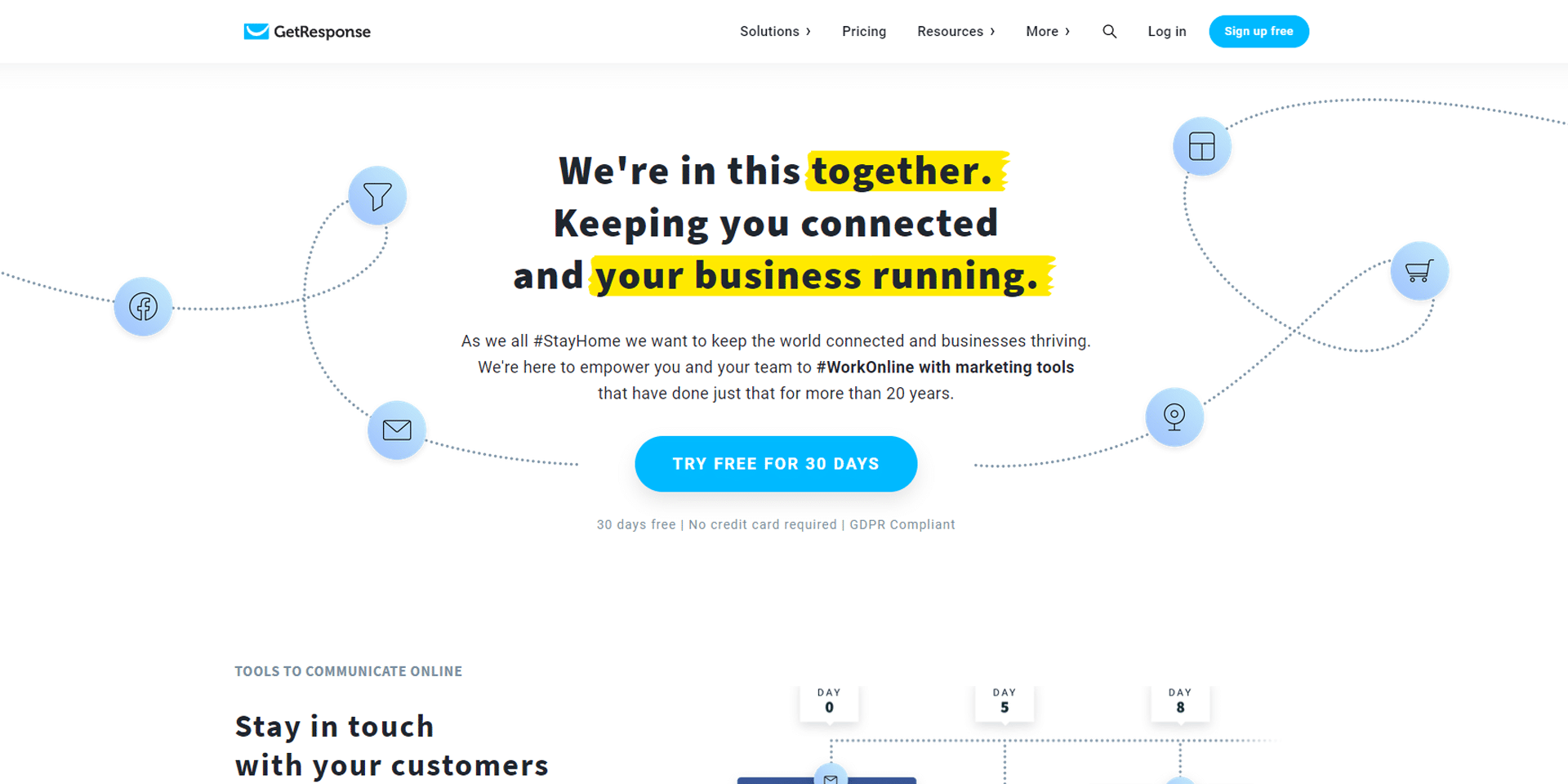 GetResponse
Pricing: Starting from $12.30 monthly
GetResponse is a powerful automation and monitoring tool, that integrates its autoresponder with your calendar, letting you set and manage your campaigns easily. Not only that, but GetResponse is one of the best email list management tools available.
Allowing you to manage your contacts for increased productivity, making it easy to segment users based on custom fields – or hook in with 3rd party tools to segment via user behaviour. GetResponse tracks your open rate, unsubscribes, complaints, and CTR.
Alongside this, it will also let you know how many emails failed to make it to their intended target, and why. All data is presented using highly engaging visuals, pie charts, and graphs – allowing the users to see quickly exactly how their campaigns are performing.
GetResponse also offers one of the best support platforms for users, with video seminars, PDF manuals, webinars, and FAQs all available to help users create the best campaigns they can.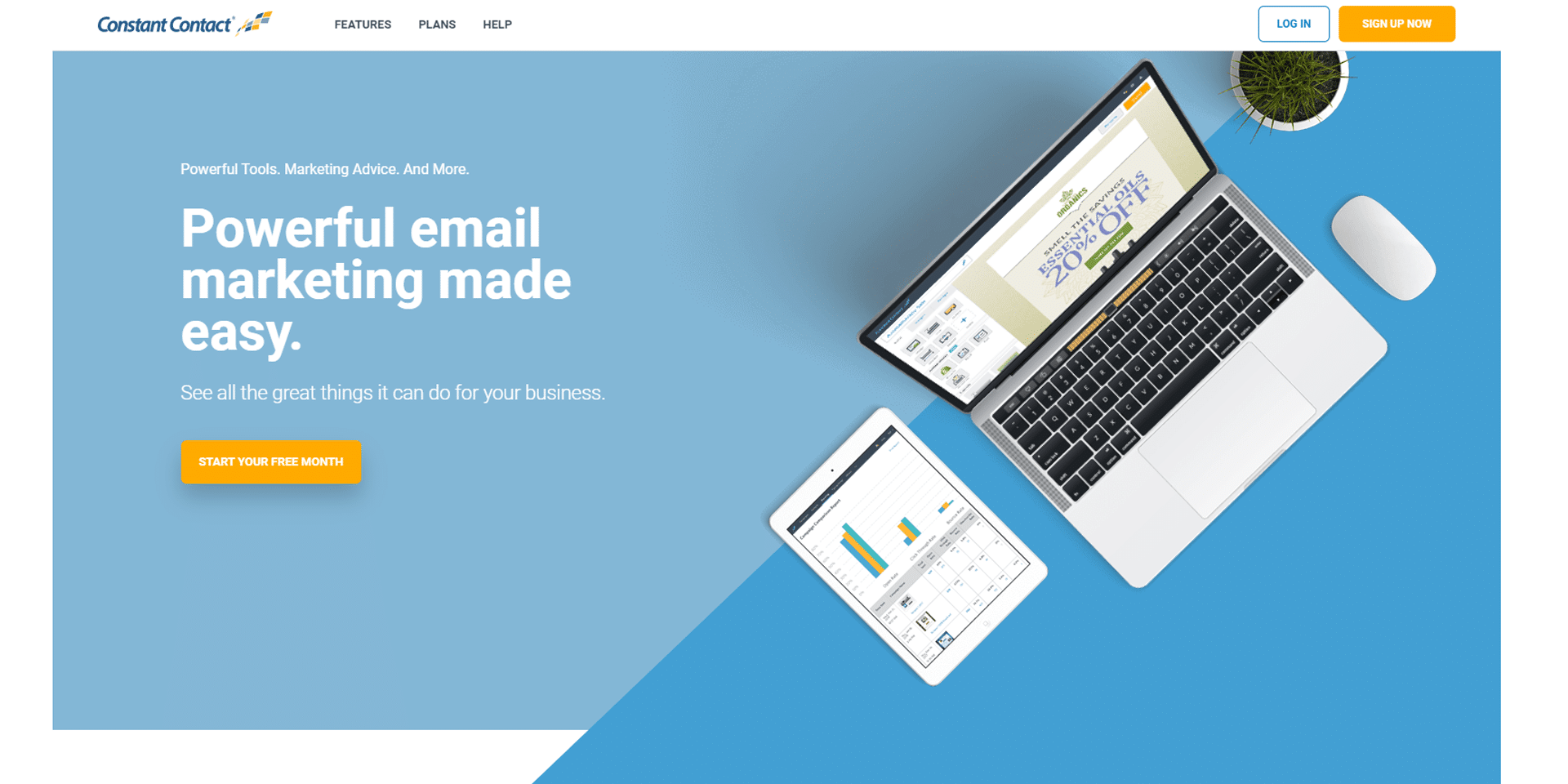 Constant Contact
Pricing: Starting from $20 monthly recurring
Hundreds of pre-designed templates are available to users, with the ability to create completely custom templates that include polls, surveys, video, or documents – all designed to boost engagement with your userbase.
This makes it an excellent starting platform for beginners embarking on their first email marketing campaigns. Similar to GetResponse above, Constant Contact provides its users with an exceptional online support system – featuring in-depth training & webinars to boost your chances of success.
For anyone who wants to integrate event invitations, e-ticketing, or registrations – Constant Contacts Email Plus plan (starting at $45 monthly recurring) provides all the necessary solutions. Also included within the Email Plus plan is all the automation features you would expect.
Autoresponders, and automated emails based on user behavior, as well as a robust A/B split testing system to optimize your campaigns for maximum conversions.
Summary
If you are considering breaking into inbox marketing, the best time to start is now. It has never been easier to market directly into your audience's inbox, thanks to the plethora of email marketing tools at our fingertips.
It can't be overstated how powerful email campaigns have become, virtually anyone with a smartphone or an internet connection has an email address. That is billions of potential targets for marketing products & services.
Give it a try, I guarantee you have nothing to lose – you might even impress yourself with the results you are able to get.
Share the Love
If you found this post useful, please let others know about it by sharing it.