The Day Brothers name was formed when Peter Day and Tyler Day were speaking at a Charles Ngo conference in New York City in 2018.
It just kind of happened naturally, since Tyler and Peter have been working together for 7 years as a duo, there the phrase was coined.
Here are some pictures of the event: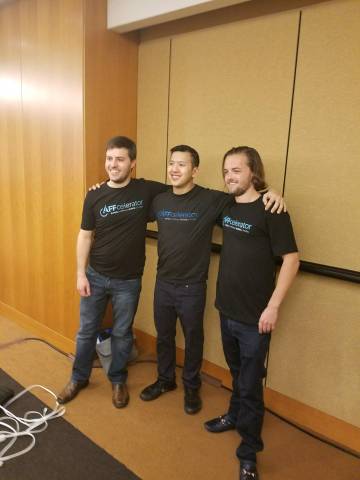 The Story of The Day Brothers
It all started in high school when Peter and Tyler Day started a lawn mowing business.
Early Years:
They charged about $20 to $30 a lawn, and with the use of flyers and local advertising acquired 20 clients a week for their business.
This was, really, their first taste of entrepreneurship.
When Peter Day was towards the end of high school a friend introduced him to a direct sales company named "Cutco Knives", also known as Vector Marketing (the marketing branch of Cutco Knives). The job was essentially selling kitchen knives and cookware to people and Peter Day took it up with fury when he was about 18 years old.
Driving from house to house and to different appointments, Peter Day took a fanatic approach to selling, becoming #8 in the nation for the company for the summer he did it. Peter was selling roughly $20,000 a week of cookware and kitchen knives.
Cutco taught persistence, sales skills, and focus. Peter would be up at 5 in the morning, making cold calls by 7 am for the knife business and the days would usually finally wrap up around 8 pm after completing 8 to 10 appointments a day.
It was a hustle, but it was also a lot of money. Peter was burning out though and wanted a different approach to earning income.
At 19 years old, Peter was introduced to MLM through a contact named Michael D. and was pitched an opportunity from North American Power.
At this network marketing company Peter once again took a disciplined approach to work and success and recruited over 450 people personally into the company. That team grew to roughly 2,500 people, however the financials of the network marketing company where not succeeding and the company later closed their entire network marketing branch.
In a search for other types of work, Peter thankfully started looking for new opportunities even before the company shut down their network marketing arm. Peter then became super interested in Internet marketing.
Having stumbled across different internet marketing and affiliate marketing promotions when doing the MLM business, it seemed like the natural way to go.
Internet Marketing
This is when Tyler Day became a big part of the business. Peter spotted the opportunity in internet marketing and pulled Tyler Day in right away.
Tyler had been a part of the lawn mowing business as well and had also sold Cutco Knives a few years so it only felt natural to keep working together in some way.
Tyler Day and Peter became a good partnership in internet marketing. They are like-minded, on the same page and have the same values.
The road to success in Internet Marketing was a bit slow at first. It took a solid 4 years for Peter and Tyler to become truly "successful" in a big way. There was a lot of learning curves, a lot of courses bought, a lot of conferences attended, but by about year 4 they really nailed it.
Having purchased some training on how to do affiliate marketing the right way, Peter and Tyler started having success promoting all types of products; from auto insurance, real estate and more. They finally had their first real success in internet marketing.
Ever since this turn around 4 years ago, Peter and Tyler have been doing over 3 million per year of revenue in their business and have a goal to take their business to the 12 million+ per year mark.
At this stage in their business, they put their own affiliate marketing and campaigns as a priority and have also started coaching and personal training on the side.
In addition to affiliate marketing, the Day brothers have also started investing their resources in mid-stage eCommerce companies and running ads for national brands as an agency.
The blog Optimize To Convert was put together to help up and coming internet marketers find the breakthrough that they need, and to help people on a practical level in internet marketing.
Through the use of the material offered on the blog and other training products, Peter and Tyler have a goal to help over 100,000 people get a head start on their businesses, promoting properly online with Facebook Ads, Google ads, Bing, Email and more.
Peter and Tyler Day have also put together a newsletter that keeps their subscribers updated with recent training.
– The Day Brothers